Summit Time, Ocean Heroes, Energy Reform

By David Helvarg
In this Issue
The Next Wave
And the Winners Are
Oil & Terror
Space Available
THE NEXT WAVE Two Weeks Until Blue Vision in D.C.
Have you been waiting for our elected representatives in Washington to join us in our efforts to create practical solutions for restoring our public seas and ocean economy?   Now's the  time to join hundreds of other ocean heroes and make it happen!
This year's Blue Vision Summit (May 20-23 in Washington, D.C.) covers a range of issues including major themes like Restoring the Gulf of Mexico a year after the BP disaster. Cyn Sarthou of the Gulf Restoration Network will lead the opening plenary "Voices from the Gulf," that includes area scientist Dr. Bill Hawkins, Mobile Baykeeper Casi Callaway, Chris Dorsett of Ocean Conservancy and Father Vien Nguyen a leader of the Vietnamese fishing community. This will be followed with a federal perspective on recovery with NOAA's Dr. Jane Lubchenco, Admiral Thad Allen (USCG Ret.) and Terry Garcia from National Geographic (and the BP Commission).
Among many other ocean figures participating in the Blue Vision Summit are Dr. Sylvia Earle (with a movie soon to come out on her), Senator Sheldon Whitehouse of Rhode Island (who is introducing a bill to establish an Ocean Trust Fund), Celine Cousteau, Carl Safina (with a new book on the Gulf), Barton Seaver (new book), Jim Toomey (same cartoon shark), Academy Award winning director Louie Psihoyos ('The Cove') and the Washington Post's Julie Eilperin who also has a new book coming out on sharks. Come join us – Register today!
BVS3 will include a Friday night 'Celebration of the Seas,' also the 4th annual Peter Benchley Ocean Awards and the largest ever Capitol Hill Ocean Day where you can help educate your elected representatives about how healthy oceans promote a healthy economy.
This will be a results-oriented summit aimed at building the ocean community, influencing policy makers and developing a common plan of action from sea to shining sea. Hope you can join us. For the full list of sponsoring organizations, agenda and to register, volunteer or apply for a registration scholarship please visit the BVS3 website.
We've also just announced this year's Peter Benchley Ocean Award winners who'll receive their mantas statues – designed by world-renowned marine artist Wyland – Saturday evening at the Summit. They include the President of a Republic with two coastlines, an 18-year old high school student from LA, a newspaper reporter, a diver and explorer who helped establish an ocean wilderness the size of France, a famous Admiral, a genetic scientist and a grassroots organizer, all of them heroes of the sea.
The Awards Ceremony itself will be MC'ed by Sylvia Earle.
The Recipients of the 2011 Peter Benchley Ocean Award
President Laura Chinchilla of Costa Rica
Excellence in National Stewardship of the Ocean
for expanded protection of the waters around the Coco Island National Park
(Note: This award will be presented on Friday afternoon.)
Dr. Steve Palumbi, Director of Stanford University's Hopkins Marine Lab
Excellence in Science
for his work using genetic technologies to improve marine conservation
Admi
ral Thad Allen (Retired Coast Guard Commandant)
Excellence in Policy
for his work on U.S. Arctic and Ocean Policy and his Disaster Response Leadership
Dr. Greg Stone of Conservation International
Excellence in Solutions
for his work establishing the Phoenix Islands Marine Protected Area in the Pacific island nation of Kiribati
Juliet Eilperin
Excellence in Media
for her ocean reporting in the Washington Post
Rudy Sanchez
Youth Activism
for his work to reduce plastic pollution of our coasts and ocean in the Los Angeles basin
Kathy Fletcher
Hero of the Seas
for her career as founder and Executive Director of People for Puget Sound in Seattle
Presenters of this year's awards include last year's recipients Dr. Jane Lubchenco, Louie Psihoyos, Cynthia Sarthou and Kyle Thiermann, as well as 2009 recipient Dr. Jeremy Jackson and award-winning National Geographic photojournalist Brian Skerry.
Join us for a night celebrating these seven extraordinary individuals. Get your tickets today!
OIL & TERROR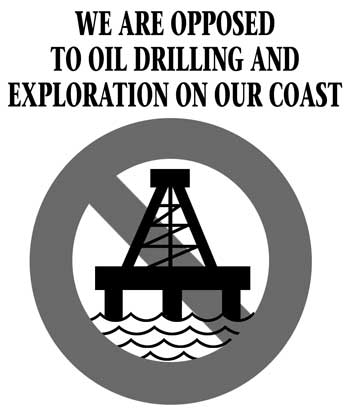 Thinking of heroes and solutions also makes me think of villains and bad behavior. We have to stop dumping radioactive water, trash and dead terrorists in our ocean and treat it with more respect. The end of Osama bin Laden hopefully marks the beginning of the end of the post 9/11 'War on Terror' and may also allow us to more quickly end our military involvements in Iraq and Afghanistan. Perhaps we might even begin addressing related and troubling issues, like why so many of our wars, conflicts, terrorist attacks and environmental disasters seem to be linked to oil fields – in Saudi Arabia, Kuwait, Iraq, Libya, the Gulf of Mexico and soon the Arctic Ocean. In terms of ocean drilling it used to be a debate between energy production and marine pollution. But now it's a product liability issue.
This product used as directed overheats your plant. The best available science is generating the worst imaginable scenarios when it comes to the burning of fossil fuels, such as unprecedented tornado seasons linked to a warming atmosphere or coastal flooding and dying reefs linked to sea-level rise and acidification. Three BVS3 panels that speak to this include Offshore Energy: yesterday, today and tomorrow, Ocean Energy – Turning the tide for power & the environment and Advancing the issue of ocean acidification – beyond climate and energy policy reform. Given where those reforms are at now maybe I should also recommend another panel Oceans of Faith – Religious leadership and the ocean.
SPACE AVAILABLE While we plan to film all the BVS3 panels and make them available
for broadcast this summer, as with concerts and coral reefs, it'll be better live! We have a variety of events planned, many are free and open to the public (though registered still encouraged). Please join us! Register for BVS3, Celebration of the Seas, Capitol Hill Ocean day, and the Peter Benchley Ocean Awards today.
Find us on
Blue Vision Summit | Peter Benchley Ocean Awards | Make a Donation | Blue Movement Directory