Blue Notes #109: Notes from a book tour, Green Money for Blue Seas & More
March 19, 2013
By David Helvarg
In This Issue
Notes from a book tour
Green Money for Blue Seas
Seaweed Spotlight: The National Marine Educators Association
Tired of reading?
Notes from a Book Tour
My latest book The Golden Shore – California's Love Affair with the Sea is about how the Pacific defines California and how to live well by the sea while restoring and protecting it. My book tour is providing a chance to re-connect with various Seaweed groups and ocean heroes who are part of that process.
We had 200 folks at the book launch Feb. 26 at the San Francisco Aquarium of the Bay sponsored by the Bay Institute and America's Cup Healthy Ocean Project. Sylvia Earle introduced me as a "trouble-maker" for the seas (I was touched) and lauded California's recently expanded marine parks and sanctuaries.
In San Diego I met with the board of San Diego Coastkeeper who are working to protect Southern California's watersheds and reduce coastal pollution. At the Birch Aquarium at Scripps I spoke to a big salty crowd and was impressed by the aquarium's interactive climate change exhibit, sea dragons (natch) and Executive Director Nigella Hillgarth's pix of Pacific sunsets that she gets to take every evening from her office deck.
In Orange County I met with the staff of Surfrider Foundation who are stoked about the imminent declaration of Trestles (famous surf spot at Camp Pendleton Marine Base) as the first surfing beach to make the national registry of historic landmarks. Speaking of historic, that evening I spoke at Crystal Cove State Park, a 1920s beach cottage colony where they used to smuggle booze during prohibition. In keeping with tradition, a Mexican Panga (small boat) full of marijuana had been busted in the cove a week earlier.  Thank you Crystal Cove Alliance and foundation supporter friends for helping make this happen (the talk, not the pot bust). And thanks to marine artist Wyland for the tequila that followed.
Jean-Michel Cousteau introduced me at the Santa Barbara Library on an 80 degree blue sky winter day when you'd rather be at the beach. I admitted that showing my 4-minute book video in front of a Cousteau was sort of like bragging about my bodysurfing prowess in front of Kelly Slater. In LA I did a radio interview at Redondo Beach where George Freeth popularized surfing in California more than a century ago. That afternoon I joined a roundtable aboard the Queen Mary sponsored by NAMEPA – the North American Marine Environment Protection Association, a maritime industry initiative to promote best practices to protect the marine environment (also a Blue Vision Summit sponsor). That evening I also spoke at the Aquarium of the Pacific after dinner with some blue folk including Aquarium President Jerry Schubel and Port of Los Angeles Executive Director (and 2012 Peter Benchley Ocean Award winner) Geraldine Knatz who is leading the greening ports movement. After my talk I went for drinks with blue filmmaker Richard Theiss and marine artist Claudio Garzon.
In Marin County I spoke at Book Passage where some sand volleyball buddies from my lost decade in San Diego showed up to spike some questions my way.
At Bookshop Santa Cruz, J. Wallace Nichols introduced me, noting that my last two books have ended with references to our blue marble planet before presenting me with one of his trademark blue marbles (to be passed on). Driving along the crescent of Monterey Bay, below who's surface is a marine canyon larger than the grand canyon, I was reminded of the value of California coastal protection by its miles of wild sand dunes and public beaches where once there was an Army base. Over the next two days I spoke at a Monterey college, the Monterey Bay Aquarium Research Institute (MBARI) where they do cutting edge science in the canyon and at the new Marine Sanctuary Exploration Center in Santa Cruz where I was introduced by Bill Douros, West Coast regional director for the national marine sanctuaries, America's wilderness parks in the sea (California has four). At Stanford Meg Caldwell of the Center for Ocean Solutions introduced me to a bunch of smart students interested in "the social ocean," (that can turn anti-social with a single sleeper wave or winter storm).  I next spoke to attendees at the SF International Ocean Film Fest and at Books, Inc. in Berkeley, close to my East Bay marina home in Richmond where they built more than 700 Liberty Ships during World War II.  From there it's on to Oregon, Colorado – where I'll make waves with the Colorado Ocean Coalition (COCO) – and Washington, D.C., before returning to the Golden Shore for more talks including one at the Marine Mammal Center, the world's largest hospital for Californians of the finned and flippered persuasion.
If you'd like to meet me or her deepness Sylvia Earle, or Geraldine Knatz, J. Nichols, Wyland, Richard Theiss, Claudio Garzon or folks from Surfrider, NAMEPA, COCO, the Marine Sanctuaries, the SF Ocean Film Fest and dozens of other blue groups and hundreds of  individuals we'll be schooling for three days at the Blue Vision Summit and Peter Benchley Ocean Awards May 13-16 in Washington, D.C. I hope you'll join us, read my book about how California is finding solutions to the challenges facing our ocean and coasts and, more importantly, live the story wherever you call home.
Green Money for Blue Seas
When Blue Frontier, encouraged by Ralph Nader among others, first began looking to work with change makers to address environmental challenges facing our seas ten years ago, the first names to come to mind did not include the World Bank or the Rockefellers.
While the Bank has had a troubled history including the funding of fossil fuel projects and big dams, it's recently increased its transparency, raised the alarm on climate change and even come to recognize the vital role a healthy ocean plays in maintaining life on our planet. The bank is also the initiator of the Global Partnership for Oceans that is focused on sustainable seafood, critical ocean habitat protection and reducing pollution. At the same time it has identified over a billion dollars of internal bank projects that relate to the coasts and ocean and is working to better coordinate them in support of the Partnership's goals.
It's also been generations since the name Rockefeller was automatically associated with Standard oil, Ludlow and Attica. In the last century Lawrence Rockefeller became known for his environmental gifts to the nation and today David Rockefeller, Jr. is founder of the seaweed group Sailors for the Sea while his wife has documented a Mission of Mermaids. As chair of Rockefeller financial services he's also helped inspire a truly revolutionary new investment fund.
Rockefeller Financial, a global investment and wealth management fund, working in collaboration with The Ocean Foundation has developed a new strategy to guide investors to public companies that are both profitable and have a tangible and positive impact on the health of the ocean. These companies are involved in onshore fresh water treatment and transportation, also the development of cleaner, more efficient marine ships' engines, new ultraviolet and filtration systems that eliminate invasive species in ballast water, environmental monitoring instruments that detect marine pollutants, improved sewage treatment plants, medical waste collection systems that take hazardous debris out of the waste stream (and ocean) and similar products and services that reduce ocean pollution and increase maritime industry safety and stewardship.
And while I don't have the half million minimum to get a stake in RF's ocean strategy fund I'm guessing there are foundations, environmental non-profits, marine and maritime portfolios that could do well for themselves by doing good for the ocean.
Seaweed Spotlight
A regular feature of Blue Notes where we shine the light on a group from the Blue Movement Directory in order to create a more self-aware and collaborative movement. This month we feature the National Marine Educators Association.
Founded in 1976 and based out of Mississippi the National Marine Educators Association is the nation's oldest organization dedicated to "the study and enjoyment of both fresh and saltwater," with a focus on marine and aquatic studies and education. Its nearly 5,000 national and chapter members include kindergarten through college teachers and professors along with informal educators of all kingdoms, phylums and classes. NMEA's 17 chapters range from Oceana (Hawaii and the Pacific Islands) to Texas to Massachusetts.  Its focus areas include education, conservation, ocean literacy and educational outreach to bring new teaching tools, resources, texts and marine curriculums to the nation's classrooms and beyond.
"The biggest single initiative we're working on is ocean literacy," says NMEA President Craig Strang who is also Associate Director of the Lawrence Hall of Science at UC Berkeley.
"In 1996 when the National Academy of Sciences put out science education standards (for the United States) the word 'ocean' did not even appear in them.  So we brought together hundreds of scientists and educators to develop a consensus on what are the essential ideas about the ocean that every kid should understand by the time they leave high school."
Among the seven essential ideas that NMEA has gone on to promulgate – The earth has one big ocean with many features, the ocean has a major influence on weather and climate, the ocean is largely unexplored and the ocean makes earth habitable.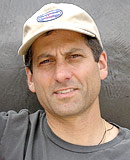 Next month a new set of common core standards for state science teaching will be released with the support of the nation's Governors.  While not incorporating all of NMEA's work Craig Strang is "confident these will be better than any previous standards."
NMEA is also working with other countries and regions to expand in-school and public ocean education to the EU, Portugal, Japan, Fiji and elsewhere.
Along with a quarterly "Journal of Marine Education" and a regular newsletter NMEA members also hold regional conferences and an annual national conference that includes three awards – The Outstanding Teacher Award for effective and innovative classroom teaching, the James Centorino Award for outstanding marine education work by NMEA members who are not classroom teachers and the Marine Education Award for outstanding work and leadership in any aspect of marine education. I'm personally honored to have once received the New York State Marine Education Association's Herman Melville Award, one of the coolest named literary prizes I know of.
This year, in cooperation with the National Ocean Sciences Bowl and Ocean Today Kiosk NMEA is also sponsoring a 1-3 minute high school video contest (this year's theme involves fresh water). Their next national conference is scheduled for July 22-26 in Mobile, Alabama, hosted by the Southern Association of Marine Educators. For more on NMEA go to www.marine-ed.org. For more on their seven ocean education principles go to oceanliteracy.net.
If you have half a minute please check out our Blue Vision Summit video and pass it on.
If you have 2.5 minutes check out Digital Ocean's pitch for Blue Frontier's '50 Ways to Save the Ocean' educational work.
And if you have a leisurely 4.5 minutes check out my book video for The Golden Shore.
Blue Vision Summit | Peter Benchley Ocean Awards | Make a Donation | Blue Movement Directory
Find us on