BLUE NOTES #116: Shutting Down the Ocean & More
October 15, 2013
By David Helvarg
In this issue
Shutting Down the Ocean
Benchley Folk Help the Ocean
And Artists for the Ocean Auction Helps inspire us All
A Sailor Friend
Seaweed Spotlight: Port Orford Ocean Resource Team
My Muse
A Cloud over the Sea
Work on ocean and coastal protection, management, law enforcement, federal science and safety ground to a near halt with the government shutdown when the Republican House majority refused to pass the nation's budget because Obamacare became law. This disaster comes on top of the ongoing budget "sequester" that randomly slashes funding for federal agencies dealing with our public seas including EPA, NOAA and the U.S. Coast Guard which has reduced its offshore patrolling roughly 15 percent and, with the shutdown, effectively ended fishing enforcement and marine mammal law enforcement. Despite our Healthy Ocean Hill Day in May that saw seaweed activists lobbying Congress on behalf of an Anti-Pirate Fishing bill, right now is a good time to be a pirate. With over 90 percent of EPA shut down it's an even better time to be a polluter dumping poison into our seas.
Ten years ago there were a number of outspoken ocean champions in the Republican Party including Representatives Saxton of New Jersey, Gilchrest of Maryland and Senators Snowe of Maine and Lugar of Indiana but they've since been purged by their party's Tea Party radicals.
The Tea Party agenda includes not only killing off most government programs but also climate denial that calls established science on greenhouse gasses and ocean acidification a "hoax." Among their loonier notions is the idea that the President's National Ocean Policy is part of an Agenda 21 UN environmental takeover plot that threatens U.S. sovereignty. If that sounds like a crazy joke, it's a joke that for years has also kept the U.S. Senate from ratifying the U.N.'s Law of the Seas Treaty despite its support from every maritime interest from Greenpeace to the Navy to Exxon.
The ocean and its protection remains a non-partisan issue. It's the partisans of the extreme right who've changed the equation in Washington and tea stained the blue in our red, white and blue.
Top
Still, I can think of at least 40 people including three actual members of Congress who know how to get things done for our ocean planet. They are the past winners of the Peter Benchley Ocean Awards. The 7th annual awards nominations are now open through Dec. 31. Submit your ocean hero or heroes today. Remember, it's never too early to begin proposing our next blue winners and solution-based heroes from across many sectors of society.
Top
And Artists for the Ocean Auction Helps inspire us All
"Who hears the fishes when they cry?" Henry David Thoreau once asked.  I can think of at least eight artists who do and translate the sea into new forms of inspiration, hope, humor and solace.  Today through November 5, charitybuzz will host an online auction of "Artists for the Ocean" to help Blue Frontier keep afloat. Please bid on these amazing works from marine artists Wyland, Claudio Garzon, Courtney Mattison, Asher Jay, Cartoonist Jim Toomey and photographers Brian Skerry, Wayne Levin and Kip Evans. Their contribution will help keep the seaweed rebellion strong. Make a bid on any of the exciting items, including Claudio Garzon's orca (right), today.
Top
Blue Frontier supporter and long time friend Jon Christensen was a loving fathe
r, stepfather, husband and respected figure to people in San Diego and beyond. When he recently crossed over the bar at age 63 he was a retired public servant and longtime civic activist but above all I remember him as a sailor. While the America's Cup has gone high-tech with 50 mile-per-hour giant twin-hull catamarans flying above the surface of the water on skinny foils, sailing for the everyman and woman has never been more affordable or accessible. Today there are over 14 million recreational sailors and boaters in the U.S. For some it's a hobby, for others, like Jon, a lifelong passion. Although he was an all around waterman, a surfer, bodysurfer and diver, Jon's true place in the world was at the tiller of a sailboat, heeling over in the wind and occasionally yelling at friends to pull the lines tighter or watch the boom coming about. "I'm not yelling, I'm trying to be heard," was one of his frequent rejoinders.
The funny thing is Jon was a really good sailor with consistently bad luck, the kind of luck that makes one believe in destiny. The first time I ever sailed with Jon we were hiked over the edge of his tilting boat when a knot came loose and I ended up underwater. One time, during an El Nino storm Jon and I were forced to surf his 32-foot live aboard down the face of a wave to get back into San Diego harbor. In 1991 we hit a storm in Baja and shipwrecked the 18-foot folding trimaran he'd built. Later we got it refloated until the Mexican Navy came to our "rescue," put it under tow and sank it. I was having some drinks with friends Manny Ramos and Scott Fielder last week talking about Jon when Scott recalled a trip with him to the British Virgin Islands where everything went well. I pointed out it was kind of weird after thirty years of sailing with the man that an incident-free journey is the one that stood out for us. Manny said he'd been sailing with Jon off San Diego the Friday before he died. "We got back to the dock and I mentioned how nothing had happened and he kind of grinned. Then we got to the car and he realized he'd locked his keys inside the boat," Manny grinned himself. I'd have loved to give Jon a call and rib him about that and also hear about his latest inspired plan, to run for San Diego city council, but strangely he's no longer there. He'll be missed, by land and by sea.
Top
A regular feature of Blue Notes where we shine the light on a group from the Blue Movement Directory in order to create a more self-aware and collaborative movement. This month we feature the Port Orford Ocean Resource Team.
Blue Frontier was founded to promote bottom up solutions to the threats facing our living seas. So we're not surprised that long before President Obama established his National Ocean Policy in 2010 to work on an ecosystems-based approach to coordinating ocean uses, a handful of fishing families in a small coastal town in Oregon were already on it. The Port Orford Ocean Resource Team (POORT) was founded in 2000 with the support of 18 local fishermen and a specialist in marine reserves named Laura Anderson who wondered if community-based fisheries management then common in Chile, Mexico and elsewhere might work for Oregon. "The timing was perfect because we were heading into a (West Coast) groundfish disaster and had seen salmon and urchin (populations) crash and thought there had to be something better than the top down management we were seeing. Because we knew the ocean right outside our front door," explains Leesa Cobb, POORT's Executive Director since 2004 and herself the wife of a local commercial fisherman. Another factor that favored their community initiative was what she calls their "homogeneous nature."
Founded in 1851 in a bloody land grab from a local tribe, Port Orford is the oldest coastal town in Oregon but hardly its best port. With no protective sand bar or natural harbor the town's fishing fleet depends on a "dolly dock," a yellow crane that lifts its fishing boats on and off a high pier. As a result the fleet of about 30 boats are all under-40 feet in length and share common gear and attitudes. They're all hook and line or crab pot fishers dependent on the abundance of the local waters with generations of shared knowledge about the area's black cod, tuna,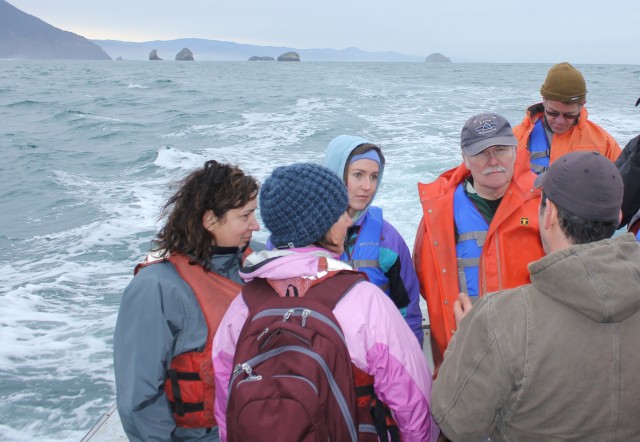 halibut, rockfish, crab and urchin. They take pride in the selective nature of their fishing and their lack of big bottom dragging nets that destroy habitat and generate bycatch, the killing of non-target species. With a $5 million dollar annual catch the small onetime timber and fishing town of 1,200 still depends on the ocean for its living. Nearby towns like Gold Beach that lost both their commercial logging and fishing jobs are now totally dependent on tourism, a risky bet in an ongoing recession. POORT by contrast has started a local pride project called, "I am a Port Orford Fisherman," and a marketing program for "Port Orford Sustainable Seafood" that has increased the price per pound by selling to restaurants, farmers markets and interested buyers around the state. The marketing is ground truthed by what Leesa calls their, "triple bottom line; Ecology, Economics and Equity. We started looking at things like local school education and science projects from high-resolution mapping of habitat to the life history of rockfish but we're best know for our marine reserve work. Every coastal community in the state opposed them but we said it's a great (biological) savings account for our community. We saw it as a tool not to be ignored but embraced by fisherman and with our board of five commercial fishermen we placed our reserve in our prime fishing ground where it needs to be." The 8-square-mile Redfish Rocks Marine Reserve, established in 2012, became the first of what are now five no-take and limited take marine parks along the Oregon coast. When the state decided it didn't need boundary markers local fishermen and POORT's staff of six raised the money to put buoys along the boundaries so outside fishing boats couldn't claim ignorance if caught poaching inside the reserve. Port Orford fishermen are also donating boat time to researchers. "The reserve could be a good dive spot where we'll also see the comeback of flora and fauna," Leesa reports. She's hoping that someday they'll also see a big return of slow growing and badly depleted rockfish. "My husband and our board realize sitting back and doing nothing isn't an option anymore," she explains. Recent news includes Oregon State University opening a marine lab in a building POORT's upgraded for them and the mayor and city council considering applying to NOAA to establish Oregon's first National Marine Sanctuary in Port Orford. POORT's work has also become a model for other working waterfronts around the nation. In 2009 Blue Frontier invited Leesa to talk on a Solutions Panel at the Blue
Vision Summit in Washington, D.C. In 2012 they received the Governor's Gold Award for contributing to "the greatness of Oregon," and they're now featured in a new film, Ocean Frontiers, that highlights collaborative approaches to ocean protection across the U.S.
Like CORALations in Puerto Rico (Blue Notes #112) and Amigos para la Conservacion de Cabo Pumo in Baja Mexico (Blue Notes #114), POORT understands that a successful marine reserve or any other environmental initiative needs local acceptance and leadership. "Without community engagement, a sense of community ownership and pride, you're missing a big piece," Leesa says.
Top
Booklist, the magazine of the American Library Association, has rated my book, The Golden Shore – California's Love Affair with the Sea as one of the "Ten Best Literary Travel Books of 2013" and while I'm flattered I'm also reminded of what Richard Henry Dana, Jr., wrote after his 1840 book about the California coast Two Years Before the Mast, became a national bestseller: "Whatever attention this book may gain, and whatever favor it may find, I shall owe almost entirely to that interest in the sea, and those who follow it, which is so easily excited in us all."
Top
We only have 76 days left for our Digital Ocean cloud-funding campaign to send Sherman's Lagoon, cartoonist Jim Toomey and me to schools across America to talk about Blue Frontier's 50 Ways to Save the Ocean. So give some kid a cartooning break. Check it out and make a donation today and then tell all your friends. (Raise up to $15 for Blue Frontier when you make a $5 donation today.)
Top
Blue Vision Summit | Peter Benchley Ocean Awards | Make a Donation | Blue Movement Directory
Find us on