From Blues to News You Can Use
August 19, 2011
By David Helvarg

In This Issue
Economic Blues
An Intern Speaks Out
Blue Art: Virginia Daley
Seaweed Spotlight
Economic Blues
Comedian Bill Maher recently pointed out that that sector of society that denies evolution and climate change
science (what sea level rise?) is now denying Keynsian economics. According to this basic economic theory when there's a recession and people are unemployed and in debt there's little consumer demand to generate private sector sales and new production. At that point cutting back on government spending and laying off public employees will only worsen the crisis. We need to put unemployed people to work doing useful things like fixing our broken infrastructure including coastal ports, bridges, old sewage lines and storm drains as well as supporting new technologies like ocean observation systems and offshore clean energy as part of a comprehensive approach to the management and protection of our public seas, a larger part of our economy than the farm sector.
Instead the conversation in Washington is all about slashing federal spending but not defense or entitlements. That means the inevitable defunding of things like worker safety on our docks, seafood safety inspections, water pollution enforcement and other environmental protections including marine conservation programs. We've already seen Congress holding up the first $20 million to begin implementing a National Ocean Policy for the United States that would actually save money by eliminating redundancy and overlap among government agencies.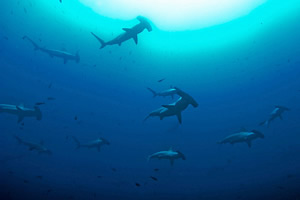 This year I've gotten to meet with three heads of state who are committed to building economies that protect their oceans and lands and thus serve their people. I feel privileged to have met with President Laura Chinchilla of Costa Rica (winner of a 2011 Peter Benchley Ocean Award), President Anote Tong of Kiribati and Prime Minister Henry Puna of the Cook Islands on behalf of the Blue Frontier Campaign. They have established or expanded (or are about to) huge marine parks. They also addressed the challenge of climate change (that threatens to overwhelm the nation of Kiribati through sea-level rise by mid-century). The Cook Islands hopes to be free of fossil fuels by 2020, becoming the first nation in the world to do so.
I only wish that the leaders of larger, more influential nations like the United States, China and France would make similar commitments to protecting our environment and in the process create millions of new green and blue jobs in clean energy, science and services.
Top
An Intern Speaks Out
As a national organization with a large mandate (to save the ocean) and small staff (of two), Blue Frontier Campaign is typical of many groups who depend on volunteers and interns to make a difference. Unlike volunteers, interns, usually college students, agree to do specific work, often full-time for summers and school semesters, often for free, gaining college credit and field experience. Their services and dedication are essential and enable many non-profits to function effectively. Below is a message from Erin Auel, a student at Georgetown University and one of our four amazing summer interns.
Hopefully, some of you got to know the Blue Frontier Campaign interns for a few minutes this summer. We reached out to over 1,000 organizations in our quest to spread the word on a series of National Ocean Council listening sessions. In several cities across the United States, staffers and experts alike were available to discuss President Obama's National Ocean Policy with constituents. In a sense, this was the opportunity that our organization and thousands with similar interests needed–a chance to unite with each other and to speak up to our elected officials. Unfortunately, the majority of people we called had not even heard mention of it. It makes sense in many ways–who exactly would be responsible for making sure marine activists knew of opportunities to be, well, active? The answer became clear–it's us. By us, I don't necessarily mean Blue Frontier Campaign, though we work actively on this mission. 'Us' consists of every person who has a relationship with the oceans–which of course means everyone.
In the most basic sense, our phone calls were a look into the priorities of a community, of both the local and national variety. We experienced great successes like in Hawai'i, where it seemed that almost every organization planned to send someone to the meeting. Professors from the university joined local activists to learn about and support National Ocean Policy. Or in Chicago, where the Alliance for the Great Lakes shared this information with members and demonstrated that National Ocean and Great Lakes Policy is important to all waterways. We also faced some frustrations, like our call to the town hall of the small port city of Ocean Shores, Washington where a listening session took place. We hoped that they had been publicizing the meeting on their website and through other means, but unfortunately they had not been clued into this opportunity at all.
Regardless of the difficulties, we declared success at the end of our two weeks of calling. Not
only had we shared the details of a valuable meeting with fellow seaweed (marine grassroots) rebels, but we also introduced our mission to groups and institutions in every state. In an ideal situation, a riverkeeping organization would know of and work with the land preservation society upstream, and together, try to accomplish goals that would lead to greater health of the biggest downstream site: our oceans. We're getting closer and closer to reaching this point and through the beauties of social networking and a vast web of dedicated individuals we are making considerable progress.
As an intern this summer, I've had several valuable experiences that allowed me to get an accurate look into the fundamentals of nonprofit work and activism. At the office, my day consists of a variety of objectives aimed at getting the word out about ocean issues–I've been able to explore a whole new sphere of action and made exciting discoveries about inspiring groups and leaders. Additionally, with the experiences of an
intern has come a glimpse into the life of a working (and commuting) person. I now understand the desire to reach home at the end of the day and want nothing more than to unwind. My routine has made me grateful to spend my day working for a dedicated organization that is able to meet its goals and affect change–because if I didn't, it would not be too difficult for me to end the day without thinking about my place in my local and global community. This internship has exposed me to people who think big and are successful, which only deepens my desire to one day "save the planet." So, this edition of Blue Notes goes out to each of you who accomplish great works each day and continue to advocate for our oceans and earth. Blue Frontier Campaign has been the beneficiary of dozens of micro volunteers through Sparked who have made it possible for us to complete the Blue Movement Directory, which is available for ocean advocates to use to connect with other groups. It is our hope that these organizations will share this database as well through the use of our upcoming webpage badge. Additionally, we send thanks to our followers and retweeters on Twitter–thanks to you, we've seen a surge in followers who make us aware of ocean opportunities and help to spread the word. As the summer draws to a close, we look back on all that we've been able to achieve and the steps we've taken to get us closer to saving our seas!
Top
Blue Art: Virginia Daley
A new feature highlighting artists who create awareness about marine issues through their work. This month's section was written by intern Keelie Rocker, an Urban Planning major from University of California, Irvine.
In water, as in life, there is a circular connection. Artist Virginia Daley illustrates this connection in her latest painting, Inside Passage (above), which depicts in three panels an enormous wave, a snow-covered mountain, and the river that connects them. Thirteen summers spent with a Lakota Indian family influenced her perspective of nature and the ocean, as they believe that every part of the earth is related and connected.
Like an explorer, Virginia travels to the settings that inspire her to fully experience them and take photos on her "electronic notebook" (her camera). She later uses the photos to composes her paintings. Her paintings are never framed, as that would fence in nature.
In addition to raising awareness of environmental issues through painting, Virginia serves as Acting Executive Director of Fearless Funds. She continues her stewardship of keeping water and the environment a safe and clean place and educating the public on ways that their actions are connected in that role. To see more of Virginia's work, visit her website.
Top
Seaweed Spotlight
A new regular feature of Blue Notes where we shine the light on a group from the Blue Movement Directory in order to create a more self-aware and collaborative movement.
The Galveston Bay Foundation was founded in 1987 as a nonprofit organization to preserve, protect and
enhance Galveston Bay — one of the world's most productive estuaries. Its balanced programs in advocacy, conservation, education, and research strive to ensure that Galveston Bay remains a beautiful and productive place for generations to come.
The Galveston Bay Foundation's 2nd Annual Oyster Reef Restoration Benefit has been scheduled for tomorrow, August 20. The Last Concert Cafe in Houston is the host venue and the Benefit will include live music, Mexican food, and a raffle.
Top
Find us on
Blue Vision Summit | Peter Benchley Ocean Awards | Make a Donation | Blue Movement Directory